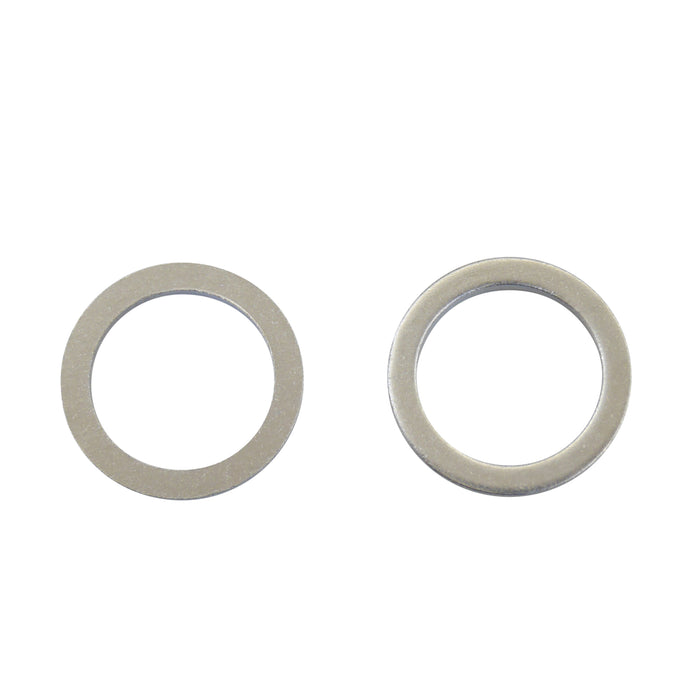 Product Features

Size and Quality: These Aluminum oil pan drain plug gaskets are Precision-engineered to use on oil drain plug to prevent any leakage of oil. It is easy to install and perfectly fit for your Toyota vehicle oil drain plug. It covers the minor gaps between plug and pan and gives the leak-proof ride to your vehicle. Internal Dia is 18mm and Thickness is 2mm for these washers

Compatible with Toyota Models: 4Runner, Avalon, Camry, Celica, Corolla, Cressidia, Echo, FJ Cruiser, Highlander, Land Cruiser, Matrix, Mirai, Paseo, Pickup, Previa, Prius, Sequoia, Sienna, Solara, Supra, Tacoma, Tercel, Tundra, Venza and Yaris and others. These washers replaces their OEM gaskets.

Compatible with Lexus and Scion models: Aluminum crush washers are compatible with Lexus and Scion Models. They can perfectly replace your original gaskets and will give leak-free seal.

Replacement OEM Numbers: 90430-18008, 90430-A0003 are the replacement numbers of these oil drain crush washer. Their fitting is exactly made as compared to OEM gaskets. Just replace your old gasket with these washers and have leak-proof seal.

Package Include: 14x Oil drain plug gaskets, with warranty
Product description
Quality and Durability: 18mm crush washers with outside diameter of 24mm and 2mm thickness are made with High quality material which crushes as you tighten the plug and give liquid tight seal by overlapping the surface of pan and plug. They are highly durable for whole duration of oil change and recommended to change when you change oil for better performance of engine.
Replaces OEM Numbers: 90430-18008, 90430-A0003, 90430 a0003, 90430 18008 gasket
Compatible with Toyota: 4Runner, Avalon, Camry, Celica, Corolla, Cressidia, Echo, FJ Cruiser, Highlander, Land Cruiser, Matrix, Mirai, Paseo, Pickup, Previa, Prius, Sequoia, Sienna, Solara, Supra, Tacoma, Tercel, Tundra, Venza and Yaris
Compatible with Lexus: CT200h, ES250, ES300, ES330, ES350, GS450h, GX460, GX470, IS250, IS300, IS350, LC500, LS460, LS500, LX450, LX470, LX570, RX300, RX330, RX350, RX400h, RX450h, SC300
You'll receive 14x oil drain plug gasket, with warranty. Please check replacement OEM Number and Compatible vehicle before purchase. You can contact us for any query.
Shipping Information
Your auto part(s) will ship within one business day.
Most orders ship the same day of purchase (if ordered early enough in the day). At the latest, your order will ship early the next business day.
Free Shipping: All orders shipped to a United States address ship free.
Small Orders: Orders under 13 ounces will ship First-Class Mail at the United States Postal Service (USPS). First-Class Mail shipments generally arrive within 1-3 business days (not guaranteed). You'll get your auto part(s) fast!
Large Orders: Orders over 13 ounces will ship Priority Mail via USPS. Priority Mail shipments arrive within 1-3 business days (not guaranteed).
You should receive your Mean Mug Auto parts within 3-5 business days from the date of purchase (US customers only). We will notify you if there is any kind of delay with your order.
If you do not receive your order within the first seven days from the date of purchase (US customers only), please contact us immediately.
Tracking Number(s): eBay will email the tracking number for your order as soon as we print the shipping label. Through your eBay account, you can see the location of your package as well as the expected delivery date.
Pre-Shipment Inspection: We inspect all auto part(s) before we pack and ship them. You can be sure that your Mean Mug Auto parts are the best quality before you receive them.
For return shipping information, please go to our Warranty & Returns page.
60-Day Money-Back Guarantee, Returns, & Warranty
You have 60 days, from the date of purchase, to return your Mean Mug Auto part for a full refund.
If you're NOT fully satisfied with your purchase, then send us a message before leaving any feedback. We'll do our best to work with you to make things right. We've given you the maximum refund time to ensure you have enough time to use this auto part.
Unforeseen things happen and we know that!
- Maybe you realize your current auto part isn't broken after all.
- Maybe this part is the wrong fit for your vehicle.
- Maybe the part you receive is defective (I know, I know…it's hard to think about). The truth about defects is that they're possible and could accidentally be missed. But, our positive feedback tells the story because the majority of our customers are 100% satisfied.
- Or, maybe something else comes up.
Lucky for you, we offer a full 60-day money-back guarantee. The last thing we want is for you to be stuck with an auto part you're not happy with.
When you buy Mean Mug Auto, you're buying peace of mind.
3-Year Warranty: We'll repair or replace your auto part if determined to be defective in material or workmanship. This warranty does not cover damage caused by misuse, abuse, negligent handling, or normal wear of parts.
We'll cover warranty-related shipping costs for United States customers only. Shipping charges will apply if you make a warranty claim outside of the United States.
Alternatively, we can offer a 50% refund of your auto part(s) without having to return the product. This helps us cover our expenses and makes the refund process easier for you.
Return Your Auto Part(s): please ship your auto part(s) within 30 days of return approval. Any returns received after the 30 days may void your return.
If your auto part no longer works properly:
Call (315) 288-6778 Mon-Fri 9:00-5:00 (EST) or,
Email us at support@meanmugauto.com
Return Shipping
After you contact us by phone or email, please ship the auto part by First-Class Mail at the United States Postal Service (USPS).
Our USPS mailing address for returns is:
Mean Mug Auto
ATTN: Returns
5601 NY-31 #1611
Clay, NY 13041